7-Day Java Island Guide: Indonesia's Most Thrilling Island
I've been meaning to write a Java Island guide for months — it was one of my favourite places in Indonesia, and still largely untouched!
Bali may be known as surfer's paradise, Lombok has earned a reputation of being a blissful beach escape from the crowds, and Komodo Island is where travellers go to meet a dragon.
But Java Island is a place where untamed natural beauty, majestic active volcanoes, pristine beaches, turquoise waters, and rich cultural heritage, all fuse into one outstanding destination.
I spent a week travelling and discovering all Indonesia's most underrated, and yet continuously thrilling, island had to offer.
I soon discovered that Java Island is a melting pot of authentic Indonesian culture, adrenaline-packed activities, and the most beautiful scenery in the world.
If, like me, you want to squeeze in as much of this beautiful island as possible in just a week, follow my 7-day Java Island guide for an incredible Indonesian adventure.
PS: If you're travelling solo in Indonesia — we have the perfect guide if you want to plan your island-hopping trip!
Java Island Guide Day 1: Arrive in Jakarta, a fast-paced 24 hours.
Jakarta is the metropolis of Indonesia that is well worth a visit for your first time to the country.
It's busy, it's heaving, it's going to set the scene for this whirlwind trip you're about to embark on!
Leave your luggage at your hotel/hostel and take to the streets and fight the jet lag. Here are a couple of Jakarta highlights to see and do on your first day.
Merdeka Square: Merdeka means independence and this trapezoid stands as the symbolic center of the city.
The National Museum: Nicknamed the 'Ganesha Museum' for the large elephant sculptures outside the museum, it's a great place to start your cultural education of Indonesia.
Jakarta War Cemetery: While a sobering site to commemorate the lives lost in World War II, this park is a beautiful and serene place in the midst of bustling Jakarta.
Java Island Guide Day 2 & 3: Yogyakarta, the cultural core of Java
Affectionately known as Never-ending Asia for its endless attractions and growing appeal with tourists and locals alike, Yogyakarta is worth a couple of days at least.
Once you arrive, get ready to explore the city and the surrounding area and twin city Surakarta.
Within the town center, you can easily explore on foot or hop on a traditional becak, a three-wheeled pedal-powered cart, or a horse drawn cart known as an andong which is just as popular with the locals as it is with the tourists in the area.
The main highlights of Yogyakarta is the two magnificent temples of Borobudur and Prambanan, built in the 8th and 9th Century.
Borobudur Temple is the world's largest Buddhist monument and is widely considered one of the seven wonders of the world.
Sitting on a hilltop, the temple overlooks verdant gardens, lush countryside and distant volcanoes.
The temple was created – including 2,672 relief panels and 504 buddha statues – without using any kind of cement or mortar.
The solid rocks were carved and created to interlock and join with others to create the solid structure – an incredible architectural feat for the 9th Century.
Climb to the top of the temple and enjoy the vast views. It's good luck to touch a Buddha's hand if you can!
Neighbouring, but strongly contrasting, Prambanan Temple is a reminder that Buddhists and Hindus lived side by side for many centuries in Yogyakarta.
Like Borobudur, Prambanan is a UNESCO world heritage site and is a jewel of Indonesian heritage.
The three temples are all dedicated to Hindu Gods – the largest, standing at a staggering 47 meters high, is dedicated to Shiva – the destroyer.
The two smaller temples which stand to the left and to the right, are dedicated to Brahma, the creator and Wishnu, the sustainer.
Even though we were traveling during the rainy season, and were caught in an afternoon shower, the Temple was still stunning.
Looking for travel tips if you're heading to Indonesia in the rainy season? We have you covered in this blog post!
For your evening in Yogyakarta, visit Purawisata, home of the legendary Ramayana Ballet.
Just a kilometre from the bustling night market of Malioboro Street – the theatre has been putting on a show every night for the last 39 years!
The performance draws from traditional Javanese dance, theatre and music to deliver a dramatic display or elaborate costumes and intricate and precise dance moves.
Java Island Guide Day 4 – 6: Banuyangi will get your adrenaline pumping
Banyuwangi marks the adventure side of your trip to Indonesia!
Adrenaline will be pumping through your veins as this region of Java is fast becoming a hub of outdoor thrills.
One activity not to miss in Banyuwangi is hiking the Ijen Crater.
This active volcano stands 2,368 meters above sea level and is famous for its turquoise blue light that burns from the natural sulphur mined in the crater.
Hikers start their climb at midnight and begin the six-hour hike – you'll need to dodge the miners who are working double-time to collect the sulphur from the crater and return them to base camp.
After you've hiked vertically to the crest of the volcano, get ready to descend into the volcano's depths – here the smell of sulphur might be overpowering but the incredible blue flames are worth it, and as the sky brightens you can catch sight of the world's largest crater lake spanning almost 5,500 hectares.
But don't delay, you want to be back on the crest for sunrise if you want to see the most majestic views Banyuwangi has to offer.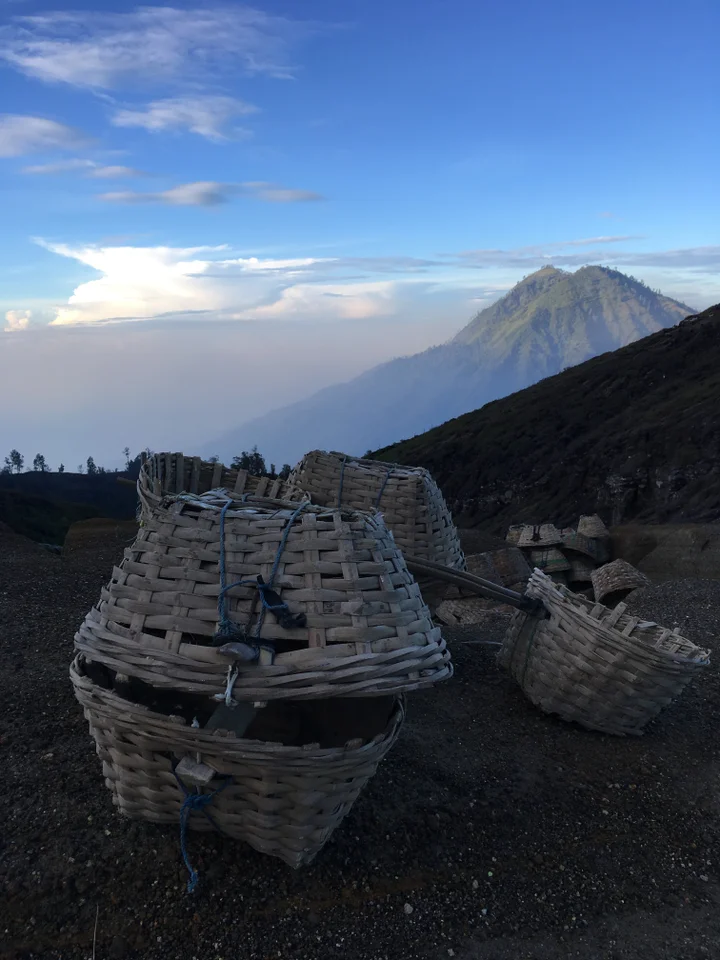 Once you've recovered from your overnight hike, spend the next three days testing out some of these equally exhilarating day trips and activities:
Surf at G-Land, Plengkung Beach: From July to September, this beach nestled within the Alas Purwo National Park becomes surfer's paradise.
Go on safari at Sadengan Savannah: Close to G-Land beach, this 84-hecter site if home to wild Indonesian bulls, deers and peacocks.
Go scuba diving or snorkelling in nearby Bangsring.
Java Island Day 7: Final day in Java and return home
A week is all you need to experience the thrills and delights of this underrated Indonesian Island.
Be ready for a fast pace and to try your hand at some strange and exhilarating experience and you'll return home feeling like you've seen the real side to Indonesia.
Looking to discover even more of Indonesia? Check out our Ultimate Guide to Nusa Penida!
---
---