5 Amazing Places to Solo Travel in Indonesia
Planning some solo travel in Indonesia, but don't know where to start? We're here to help you out!
Indonesia is a country that just keeps on surprising me. A couple of months ago, all I knew of this exotic cluster of islands is what I had read in Elizabeth Gilbert's Eat, Pray, Love.
And while the fairy-tale happenings of the author in Bali would encourage anyone to jump ship and buy a one-way ticket, there is so much more Indonesia can offer than healing a broken heart.
So whether you're looking for adventure or relaxation, spiritual guidance or a chance to roll up your sleeves and give back in conservation, there's a place for every kind of solo traveller in Indonesia!
Solo Travel in Indonesia: Banyuwangi for the Thrill-Seekers:
A real treat for the adventurer, Banyuwangi is fast becoming the destination for adrenaline-seeking backpackers!
While the highlight is summiting The Ijen Plateau overnight and seeing the sunrise over the crater, there's also hiking, surfing, ATV-ing and much more in this small town on the eastern edge of Java.
With all this adventuring, you're bound to meet a like-minded group of solo travellers in Indonesia (probably blow-ins from nearby Bali!) ready to tie up their hiking boots and start exploring!
And with Banyuwangi being just a quick hour-long ferry ride from Bali, there is really is no excuse not to visit!
Solo Travel in Indonesia: Lombok for the Off-the-Beaten-Track Hikers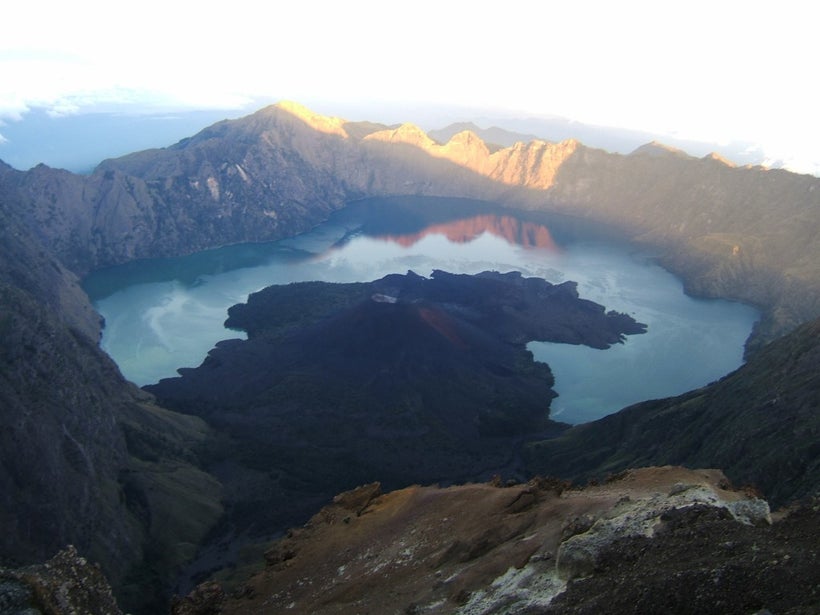 Lombok is blessed with fantastic hiking trails through tobacco and rice fields and dense forest bush-land, and has something for every intrepid traveler.
It's most famous site, of course, is Gunung Rinjani, Indonesia' s second-highest volcano – hike to the crater and you can enjoy the natural hot springs before your decent.
If you're planning solo travel to Indonesia, it's always best to plan a little bit ahead, especially if you're thinking of going off the beaten track. Think about teaming up with people from your hostel, organising a group tour, or asking locals for advice on how to book a guide for a rural hike or trail.
Solo Travel in Indonesia: Yogyakarta for the Spiritual Warriors
Affectionately known as 'Yogya', the city of Yogyakarta is a real treat for the soul. Discover the UNESCO world heritage site of Borobudur – a 9th-century Mahayana Buddhist temple in Magelang, constructed of solid carved stones which consists of nine stacked platforms, topped by a circular dome.
Another site that's well worth a dawn excursion. Neighboring PrambananTemple, 9th-century Hindu temple cannot be missed as it's stunning spired temples are dedicated to the Trimurti, the expression of God as the Creator (Brahma), the Preserver (Vishnu) and the Destroyer (Shiva).
If you're a solo traveller in Yogya, you could spend a week just enjoying these majestic temples and getting a feel for Indonesia's spiritual heritage. I even visited in the rainy season and it was still stunning!
Solo Travel in Indonesia: Komodo Island for the Conservation Activist
Fancy getting up close to a dragon? You can!
Komodo island, which is part of the Lesser Sunda chain of Indonesian islands, is a wild and rugged island that is home to the 3 meter-long Komodo dragon monitor lizard.
The Komodo National Park encompasses the whole region and there's an estimated 4,000 dragons living on the island!
The National Park, while open to visitors, is closely protected by the Indonesian Government to help the Komodo dragon population thrive as it is the only place in the world these interesting creatures call home.
Solo Travel in Indonesia: Bali for the Water Babies
You can find pristine beaches across all of Indonesia, but nowhere quite beats Bali for its beach bar, palm-tree lined shores and sundowners vibe.
Head to the town of Seminyak to enjoy the perks of the Indian Ocean views with five-star dining experiences in some of the finest hotels and beach resorts the island offers.
Or more tranquil Uluwatu has endless white-sandy beaches with a more relaxed, laid-back vibe.
Do you plan to solo travel in Indonesia? Let us know in the comments if you have any questions — or reach us on @thetwotravelled! We're more than happy to chat about all things Indo!

---
---